The 55th annual Chicago International Film Festival runs through October 27 at the AMC River East theater. Of the 132 features, 43 are directed by women. In an article I wrote on last year's CIFF, there were 38 female directors. The previous article showed that there were 36 films directed by women. Out of 17 films submitted for nomination for the 92nd Oscars, three are directed by women: Maryam Touzani 's Adam (Morocco), Mati Diop's Atlantics (Senegal), and Halina Reijn 's Instinct (The Netherlands). The films I've reviewed for this year are Francesca Scalisi and Mark Olexa's Digitalkarma, Zaida Bergroth's Maria's Paradise, Chinonye Chukwu's Clemency, and Minhal Baig's Hala.
The mind-blowing documentary, Digitalkarma, is a powerful film that is about female empowerment and oppression. Rupa is an educated and effervescent young woman who is hungry for success and knowledge. She gets an opportunity from a tech-training program, geared toward women, and flourishes. In order to visit her clients, she needs a bike. Rupa becomes one of the first girls of her village to ride a bike. While there's no law that prohibits women and girls from riding bicycles, it's sporadic and often frowned upon. She's unphased by the rude comments and cold stares toward her. However, due to a turn of events, she's left to choose between pursuing a career or giving in to an arranged marriage and leaving her family behind. She then creates a video diary. One of the things she talks about is the possibility of being married off and leaving her family. The filmmakers create an eye-opening film, which took four years to make. It shows that while female empowerment is becoming more prevalent, it isn't welcomed by some.
A train waits for Maria and her followers to board in front of an angry mob. The leader is hit by a pebble. Stunned and bleeding she, along with the others, move on. This scene really shows how much she's despised, but you're not quite sure why and are intrigued. Zaida Bergroth's Maria's Paradise is a dark and twisted film, showing that the truth isn't always what it seems. In this period piece Maria (Pihla Viitala) is the leader of a cult back in the 1920s. Her following is convinced that God speaks to her. Salome (Satu Tuuli Karhu), one of Maria's devout followers looks at her in awe, despite Maria being sent to and escaping from prison. She slowly realizes that there is more to life than the cult. While the film is based on true events, there's also some fiction. Viitala's character is deliciously sadistic and is far from contrived. She slowly unfolds into the true antagonist. Karhu's performance is very convincing as a naive and unsophisticated girl. However, the film has a slow start but gradually adds suspense and curiosity. It'll certainly have you thinking, "What's next?"
In Clemency, Alfre Woodard sparkles as Bernadine Williams, warden of a maximum-security prison. While all actors shine on the screen, Woodard's acting stands out. Every line is spoken with conviction. But it's her face that does most of the acting as it goes from stone to looking vulnerable in various scenes. The film is clean-cut and to the point. You'll love how the ending is left to the viewers' interpretation. While Bernadine is a stoic warden, her veneer cracks once she comes in contact with Anthony Woods (Aldis Hodge), a death row inmate. 
Bernadine is simply burned out and tends to chase her blues away with a few drinks. She's emotionally distant from her husband. Despite his love and support towards her, there seems to be a disconnect. Very early in the film, you'll hear her hard-soled shoes clacking on the prison floor which sets the mood for a dark, eerie, and unpredictable film. Shortly after, there is a gruesome scene of a death row procedure gone wrong. This affects Bernadine. The film quickly pulls you in and evokes emotions throughout. You can't help but feel empathy for the warden or the inmate.
Minhal Baig's Hala is a beautifully touching coming of age film about a 17-year-old Pakistani-American girl with the same name. Hala (Geraldine Viswanathan) is a high school senior who is growing up in a traditional Muslim home. Things change when she discovers a secret that could destroy the family.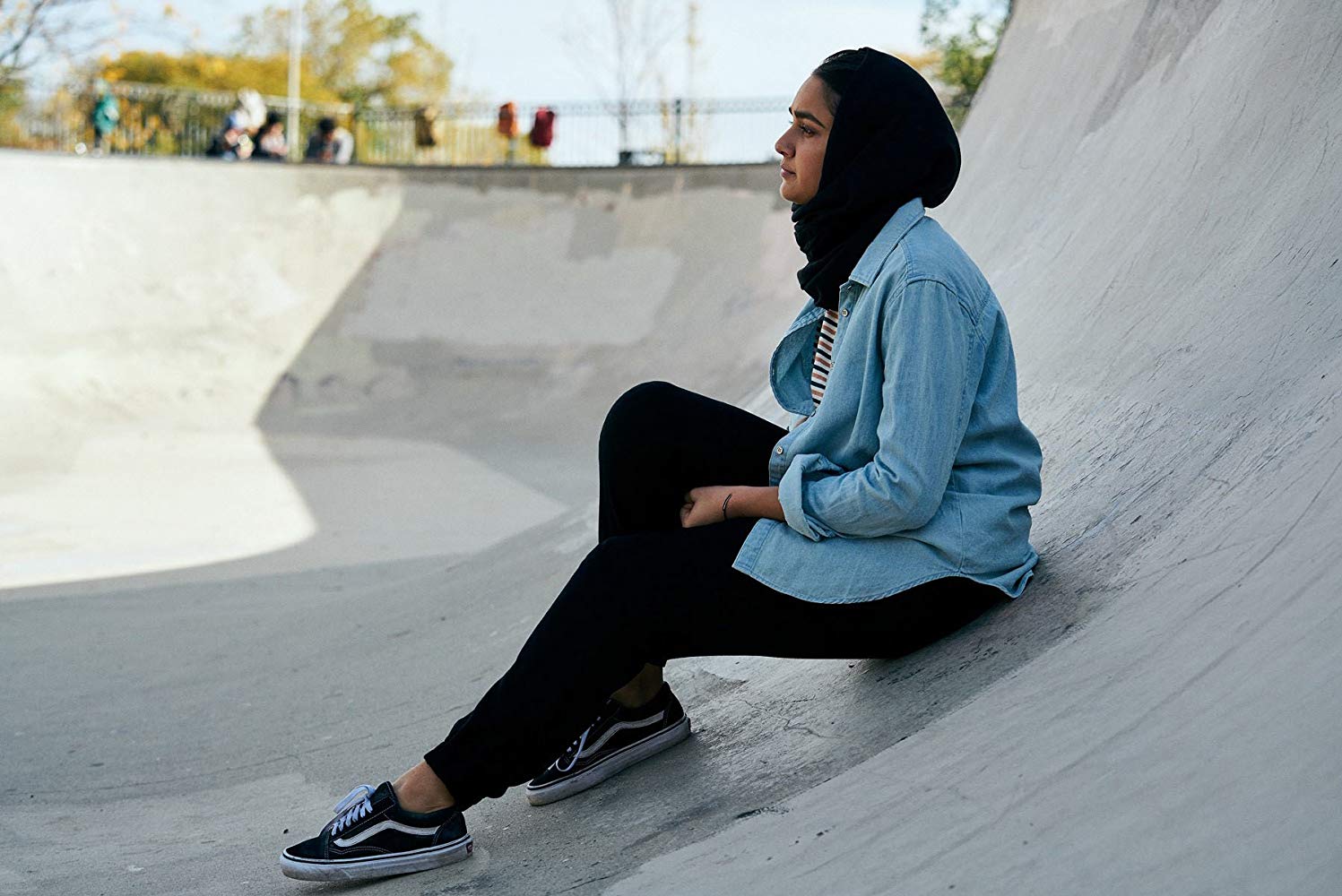 In one of the first scenes, Hala and her parents at the breakfast table. Eram (Purbi Joshi), her stern mother, seems to feel left out as she and her easygoing father Zahid (Azad Khan), bond over a crossword puzzle. Eram has a strained relationship with her daughter, despite her attempts to get closer to Hala. One of the interesting things in the film is while her father speaks to her in English, her mother speaks to her strictly in Urdu, which seems symbolic considering her traditional upbringing and her rebellious spirit.
She's a complex yet sensitive character who is certainly in sync with her emotions. She writes thought-provoking essays about her feelings. Hala also leads a double life as she and Jesse (Jack Kilmer), classmate/crush, get closer unbeknownst to her parents. They both confront her about the late nights and for being unaccounted for. As things progress with Jesse, things get even more tense at home, especially when her father finds out she's spending time with him.
For information on these films and more go to the CIFF's website.
© Stephanie A. Taylor (10/22/19) FF2 Media
Featured image: Digitalkarma
Photo credits: Chicago International Film Festival